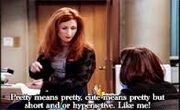 Beth is Dave's quirky secretaty at the station. She wears ridiculous outfits, has bright red hair and chews gum. Her low salary is often the butt of jokes.
Beth is named after the Kiss song "Beth." Her last name is never revealed.
Played By...
Edit
Beth is played by Vicki Lewis.
Beth does not appear in Season 4 Episode 21, "Jackass Junior High", as Lewis was away shooting Godzilla.
Beth does not appear in Season 4 Episode 22, "Sinking Ship." Her absence is mentioned at the end of the show when the audience is informed she was shooting Godzilla in Toronto.
Beth is the favorite employee of billionaire WNYX-owner Jimmy James.
Ad blocker interference detected!
Wikia is a free-to-use site that makes money from advertising. We have a modified experience for viewers using ad blockers

Wikia is not accessible if you've made further modifications. Remove the custom ad blocker rule(s) and the page will load as expected.